The Roy Keane diaries are brought to you by one of our forum users. Pop over to www.ybig.ie/forum for all your banter with Ireland fans.
From the makers of…

20th Century Fox brings you….
Starring Roy Keane and Sean Penn as the disloyal lawyer Michael Kennedy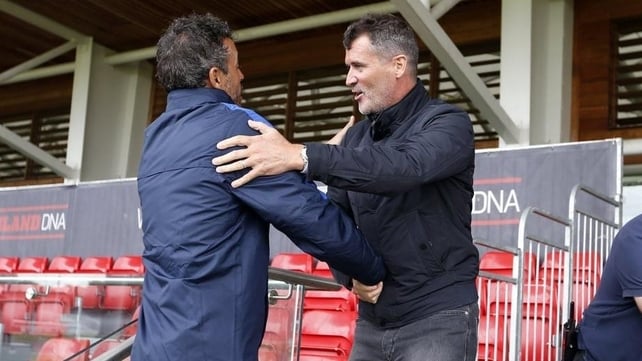 Keano's Way
a violent film by Quentin Tarantino

September 1998.  It's a Champions  League Group D clash.  Manchester United v Barcelona at Old Trafford.  Two big clubs. A big game.  The gaffer asks me to keep Barcelona's danger men Rivaldo and Figo quiet tonight.  It's a task I am relishing.
I am up for this game even if some of my superstar teammates are shaking as the UEFA Champions League Anthem is played before the game as the teams line up.  I make a point of looking Figo and Rivaldo in the eye as we shake hands, the compulsory nonsense UEFA has put in place to encourage fair play.
There will be none of that tonight. I am here to win by any means necessary. If that means taking Rivaldo out of the game with Grievous Bodily harm so be it. Giggsy puts us in the lead after 16 mins.  Soon after Scholesy puts us 2-0 up. Cruising.  Cruising against Barcelona? No chance.
I can sense the danger. They are a wounded animal.  Some of our lot think it's all over. I can sense it in one or two of our players. Stam, Yorke and Solskjaer drop their effort a percentage point or two.  Going through the motions.  I can sense it coming. No-one else does. Barca nick a goal back. Then we are 2-2. I am f**king livid.
Giving away a two-goal lead is inexcusable. I decide the game needs a bit of urgency. Rivaldo has the ball.  I come over the top and take a booking. I shout at him "you think you're big time!?" I'm livid with my team mates. Most of whom wouldn't know the amount of kids that would give their right arm to be out there playing tonight.
Here is Becks and him poncing about the place earning £50,000 a week. Being paid to play for Manchester United! My screaming pays off. We take the lead and go 3-2 up. Becks sticks it in and shouts back at me "f**k you Keanie!".
"Fair play to him," I thought.  Then a few mins later Barcelona have equalised.  Enrique with a penalty.  I let my emotions spill over. The street, she is watching. Seeing if R Keane has gone soft.  The ball goes out for a throw in on the far side. I run to take the throw in but the ball boy is slow in throwing it back.
I am frustrated and want to get on with the game in search of a winner. The kid is irritating me and I take him out with a kung fu kick that catches him in the stomach.  The crowd gasps as I stand over him shouting.  "When I ask for the f**king ball give me the f**king ball you ****!"
A voice in my head tells me I am out of order  "Jesus Roy. He's just a kid."  Then I thought "f**k it. He deserved it. He'll learn. What does he think this is a playground?"
Luis Enrique runs up and pushes me.  He shouts at me "you are a f**king coward! You kick a kid? You are not a man!"   I make a run at him but the referee and 10 of my team mates hold me back.  I tell him I will see him another day.  The game ends 3-3.
July 2016. Ireland's Euro campaign ended against host nation France.  It will be just over two months of inactivity until Ireland's next game in the World Cup qualifiers.  Barcelona are training in London today ahead of a friendly in Dublin against Celtic.
I decide to drive down from Wilmslow to St Georges Park, England's base where Barcelona are training.  Officially I am here to 'observe training methods' but in reality I am here to pay my old friend Luis Enrique a visit.  I hadn't forgotten Luis as he sneered at me back in 1998.  People say I hold grudges.  Far from it.
I sit pitchside waiting for the man to emerge.  After a while out he comes.  I approach him from behind and catch him off guard.  "Hello Luis. Remember me? Roy Keane from Mayfield" and down he goes.  That will teach him to f**k with me. He's lying on the ground. Off to paradise with you.