If Cersei Lannister is looking to enlist some help for her final battle with the Mother of Dragons, Daenerys Targaryen as HBO's Game of Thrones reaches its climax next year, then she could do worse than look to Ireland's Dragonslayer, James McClean. That said, it's probably unlikely he'd sign up considering that, as the now famous chant goes, "James McClean, he hates the fu#&in' Queen!".
So it turned out the worry I'd been feeling going into the last round of group games proved to be ultimately misplaced. For all the questions that can be asked about our generally agricultural style of play and our inability to make the most of any advantageous positions we find ourselves in, the one thing this team has in spades is courage and an ability to fight and see out do-or-die scenarios. We don't do it the easy way but when our backs are against the wall, this management and team deliver time and time again.
With Bristol a stones throw from Cardiff, we'd decided to make a weekend away out of it so, despite the weariness after a late night at the Moldova game the night before, myself and Louise dragged ourselves to the airport for an afternoon flight and an evening by the Avon.
By coincidence, regular away travelling companions, Gary Amsterdam and his better half, Lina, were also doing a stopover en route so we arranged to meet up with them to check out the local nightlife. I'd heard Bristol was a lovely city and the reports turned out to be right. Â Gary and Lina had already hooked up with a few friends that Gary had met in Thailand a few years earlier so we wandered to a strip of pubs on Kings Street to meet them on Saturday evening. With the city being a bit of a Hipster haven, there were no shortage of craft beer establishments to sample before the four of us wandered off for some cracking Japanese food.
Bristol also has a reputation for a thriving music scene with a lineage going back to The Wild Bunch who begat Massive Attack and Tricky, also the whole Trip Hop scene that Portishead were to the forefront of can really be traced back to it. After asking a local where some live music might be found, we were directed to a bar called The Old Duke where there was a really tight band called Mango Factory playing a style that covered everything from jazz to ska to funk and whatever you fancy yourself. Once they'd finished, the bar staff had the likes of Talking Heads, The Doors and other classics playing. There was a really good vibe in the pub as we chatted to a few locals so it was a shame when the shutter came down around 2am. That said, we had a long couple of days ahead of us so maybe it was no harm we called it a night at that point!
This Factory works!
The only downer on the evening was hearing that Cyprus had failed to do us a favour after predictably losing to Greece which meant that another group had gone beyond our reach in the race to avoid dropping out of the play-off reckoning. So it was going to have to be either Scotland to drop points on Sunday or Ukraine and Croatia to draw on Monday for a win against Wales to be enough for us.
Bristol Docks
Gary and Lina were getting an early bus to Cardiff but myself and Lou weren't travelling until 3 in the afternoon so we had a few hours to kill on Sunday. Â Although the city no longer relies on it's port as it's main economic source, the whole area around the docks is still thriving with markets, street food and craft beer stalls with sound systems booming and even a bungee jump over the water on the go.
Bristol Bungee!
There's also a beautiful Cathedral quarter which we took the time to explore. Famous mystery street artist Bansky (rumoured to be Massive Attack band member, 3D) is also a local with some of his early graffiti works now classed as masterpieces of modern art. So we were able to wander around in the unseasonable sunny weather looking out for what are now art installations and just take in the vibe till it was time to head to Cardiff. It was definitely a good call to do the stop-over in Bristol and  it's a city I'd like a bit more time to explore some day.
Banksy's Naked Man Hanging from Window
Our bus journey to Cardiff was handy enough at just over an hour and we literally just dropped our stuff at our Air BnB before heading into the city to see if Slovenia could do us a favour in their match against Scotland. Gary and Lina were already ensconced in a pub called The Old Arcade with another friend, Ollie, when we arrived just before kick-off and there was already a decent crowd of Irish fans in to cheer on the Slovenians.
The convoluted play-off system employed by UEFA this campaign had nearly made mathematicians out of us all by now and it was funny that after cheering Scotland to the rafters for beating Slovakia on Thursday, we were now dead set against them in this game. But our needs come first and as it happened we were cursing the Scots as they took a first half lead through Leigh Griffiths and held on comfortably till half-time.
More Irish we'd bumped into on previous trips over the years seemed to constantly be arriving in the pub and there was some roar when Slovenia equalised early in the second half. And an even louder one when they went 2-1 up meaning a win the next day would be enough for us unless Scotland scored twice. The nerves were sent jangling again when Robert Snodgrass leveled the match with two minutes to go but despite a late red card for the Slovenians, they held on for the draw to leave the Scots heartbroken. I do believe that tournaments are poorer from a fans perspective without the Scots (and the Welsh for that matter) but it was good to know exactly what we required before kick-off rather than having to worry about other results.
The fact that any worries about us winning but still missing out were allayed was a nice bonus as we moved from bar to bar to catch up with a few of the late arrivals such as Steve Amsterdam's crew and Andrew, a colleague of Louise's who'd been over in France. The scenes outside O'Neill's on Mary Street were more akin to a tournament crowd then a regular away game as our ranks were obviously swelled by a lot of people attracted by the short distance for this one.
Tops off for The Boys In Green??
It was all fairly good natured rowdiness but my days of getting into the thick of the on street singing are long behind me so we ducked into The Brewhouse across the road. There was a big YBIG crowd present in there so we ordered food and enjoyed some refreshments on the back terrace for a while before heading down to give the karaoke a workout in a bar called Walkabout where The Quinn Towers were holding court.
I'd started the evening drinking a Welsh stout from the local Brains brewery but, as it fell well short of the standards we'd produce in Ireland, had switched to a bitter called Smooth. Not a bad drop but it did have the unfortunate side effect of getting that Santana and Rob Thomas song of the same name stuck in my head for the next 48 hours. Not even giving Mustang Sally a go in Walkabout worked, nor did Rhinestone Cowboy or The Irish Rover for that matter but we had a good laugh trying before the bar shut with the unseemly haste that's the norm in the UK! Given that it was a Sunday night, there didn't seem to much in the way of late bars open and having had a fairly long day and with another in store, we decided to call it a night and recharge the batteries for game day.
Well, if it's going to be stuck in my head…..!
A Monday lie-in is always nice and it was around half 11 before we surfaced and found a fairly fancy cafe that our Air BnB host had recommended for breakfast. Having had a few photos of pints sent on various WhatsApp groups since we'd got up, it was difficult to resist the temptation to head straight to the pub but resist we did, for a couple of hours at least!
Having been to Cardiff a few times before, there was no great desire to do much sight seeing but we checked out the castle and the famous Animal Wall before strolling through the centre and finally heading to a bar called the Queen's Vaults where John, Ray and Pete, part of our Poland 2012 crew were lording it on the pool tables. Well, when I say lording, John was busy winning 3 games in a row where his opponent went in off on the black but you get the gist!
We'd had a heads up that there was a good YBIG crowd in a bar called The Prince of Wales so that was our next stop. As the Brummie contingent were only making their way down on the day, we'd told them to meet us there and Philly and Greg from our season ticket crowd arrived in as well so there was no shortage of craic. There was a good crowd of Welsh fans there as well with plenty of back and forth chants echoing across the pub building the atmosphere.
Game Day in Cardiff
After a few hours there, a few of us moved over the road to a very well placed Pie Minister restaurant for a pre match meal which provided a great view of the madness unfolding outside O'Neill's on Mary St. I was starting to feel a little tense now with the importance of the game really sinking in and with about an hour to kick-off was glad to have food in before heading to the ground. Another sign of old age creeping in as I've definitely left the "eatin' is cheatin'!"mantra behind these days!
Rather than walking, we jumped a couple of cabs to the Cardiff City Stadium which is about a mile and a half outside the centre. Although we got dropped a good distance from our end, we still got into our spot well before kick-off. Given that this is a fairly new stadium, I was expecting it to be a bit like those identikit stadia that have become very common in the UK over the last twenty years or so but it was actually pretty decent once we got inside. I can see why the Welsh have decided to play their home games there rather than at the far larger Principality Stadium. Better off atmosphere wise to have 33,000 in a full stadium than the same number or slightly more in a half empty 75,000 seater. The only issue was that places to hang flags were at a premium so the 69ers flag was banished to a corner that was pretty much blocked by our standing supporters.
I was back at our spot in plenty of time for the anthems and Amhrán na bhFiann was given a fairly stirring rendition considering our relatively small numbers. However, that paled into insignificance with what happened next.
Credit where it's due……
I've seen some impressive anthems in my time with France in Paris in 2005 standing out in particular. But the Welsh effort on last Monday night will take some beating. When the band started up Hen Wlad Fy Nhadau (Land of Our Fathers), I was expecting the Welsh to belt it out given their choral singing reputation. I wasn't expecting the music to be cut off after just one bar of the first verse to let the fans take over. Apparently, the Welsh team had requested it and their support didn't disappoint as they roared a spine tingling a capella rendition that you couldn't help but applaud. It was absolutely magnificent and lifted what had already been a brilliant atmosphere through the roof.
And so, onto the football. The team sent out by Martin O'Neill didn't surprise me. Shane Long's injury meant that Daryl Murphy was always going to start and as I suspected, Wes Hoolahan and Callum O'Dowda made way for the returning Jeff Hendrick and Robbie Brady with Harry Arter making up the extra body in a five-man midfield. The fact that Gareth Bale was injured for Wales was an obvious game changer and a huge positive for us.
Although I would have liked to see Wes start, it was clear what O'Neill's thinking was, keep it tight for as long as possible and then bring on some creativity when the game stretched later on. However, we seemed to be finding it pretty tough to keep it tight in the first quarter of the game as Wales dominated the early exchanges with Allen and Ramsey passing rings around us. But despite ceding all the possession, our defence was holding firm with any early corners easily dealt with and Darren Randolph tipping over an Aaron Ramsey pot shot that probably wasn't as comfortable a save as he made it look.
It was about 17 minutes in before we had a sniff of a chance with a free following an Allen challenge that saw the Welshman booked. Brady swung a good ball in that found its way to McClean who in turn hit a great ball across the box that got turned away for our first corner. Unfortunately, the corner came to nothing as Hendrick's resulting shot flew well over.
At least we were gaining a foothold in the game by now albeit by turning it into a bit of a scrap. A few corners were exchanged before a half chance for Hendrick around the 25 minute mark was cleared with Lawrence immediately countering for Wales but not doing enough to trouble Randolph. Our best chance arrived on 30 minutes when a Brady free eventually reached Shane Duffy who flashed a shot wide.
It's probably safe to say that the next big incident of the game has been one of the main talking points since and most likely changed the course of the game. I've seen online Welsh opinion since then that the McClean / Myler sandwich that Joe Allen found himself in was deliberate but having watched it back since, I don't see how anyone could say that with any certainty. Collisions like that happen regularly in football and there was no way that either player would know that Allen would end up having to go off with concussion. Without wanting to revisit old ground in any great detail, it pales into insignificance with Neil Taylor's over the top tackle that broke Seamus Coleman's leg in the first fixture in Dublin.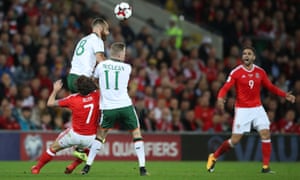 Was Allen key for the Welsh?
What can be said with certainty is that Allen leaving the fray seemed to knock the Welsh off their stride and they lost the control that they had in midfield for the first half hour which meant that the game petered out a little as we got close to half time. That said, the closest that the Welsh came to a goal came in that period as Ciaran Clark sliced a clearance that we were relieved to see go safely behind for a corner. From our perspective, a Brady shot from the right that was comfortably saved by Hennessey at his near post was the best we could muster and we entered the break all square. Considering that Wales had had double the possession we had in that 45, the feeling was that our dressing room would be the happier at the break.
First half action
After venturing onto the concourse at half time, we bumped into the Amsterdam lads so made our way back into the stand with them for a bit of company for the second half. The half itself started in a similar pattern with Ireland content to let Wales have possession but with Ramsey dropping deeper to where Allen had been dictating the first half, there wasn't the same zip to the Welsh possession. A corner that James Chester got on the end of caused a ripple of Welsh celebration in one part of the stadium but it was clear from our angle that it was the side netting that had billowed.
We weren't as comfortable a couple of minutes later as some good Welsh play ended up with Allen's replacement, Jonny Williams, swinging a great cross in from the right. Our hearts were in our mouths as Robson-Kanu got a thumping header onto it but Randolph dazzled us yet again with another super save to tip it over for a corner. Again, the corner was dealt with comfortably.
Despite the nerves and the fact we only had 10% of the crowd, the atmosphere in our end had been superb all game but the Welsh fans were responding with vigour whenever we got too loud. Â So it wasn't a surprise when a noisy rendition of COYBIG around ten minutes into the half was drowned out by the Welsh launching into the Euro 2016 anthem they'd adopted on the march to the semi finals. The refrain of "Don't Take Me Home, Please Don't Take Me Home" was still booming out as a long Irish ball flicked on by McClean made its way past Murphy and though to Hennessey in the Welsh goal. There seemed little danger as he rolled the ball out to his centre half but I think if you'd given Hennessey and Ashley Williams the option to be at home rather than on the pitch twenty seconds later they'd have snapped your hand off!
Hennessey's throw wasn't great but Williams still looked to have plenty of time to clear his lines. Looking back at replays, Jeff Hendrick points at Williams before Hennessey released the ball as if willing him to throw it there. As soon as Williams dawdled, Hendrick was onto him in a flash to win the ball. Even then, it looked like Ben Davies should stop the attack but the Irish midfielder did superbly to wriggle free and keep the ball in as he knocked it down the touchline. From behind the goal, we were willing the ball not to go out of play as Hendrick got towards the goal line and our wishes were granted as he pulled it back across the area. Arter was advancing and executed a beautiful step-over rather than playing the ball to leave it for McClean who was steaming forward. And the bould James couldn't have hit it any sweeter as he put his right foot through the ball and hammered it into the net. Cue pandemonium!
Lift off!
The whole move had happened so quick that it seemed almost unreal, I was bouncing around in disbelief almost waiting for the ref to call play back for some reason as McClean tore towards the fans in celebration followed in close pursuit by his team mates. He's taken over from Jon Walters as the team talisman this campaign and it was brilliant to see him thumping his chest and pointing at his badge. There are many players who do that, particularly at club level but you just know with McClean that he means it. His pride in the jersey is immense as was the joy he unleashed in the away end. Now it was just a case of getting through the next 33 minutes!
Chris Coleman wasn't long in changing things with the Liverpool youngster, Ben Woodburn, coming on for Andy King but in reality little changed. Word had now come through that Croatia were winning in Ukraine so a draw wouldn't be enough for Wales to sneak into the play offs. We settled back into our holding pattern and while it was clear that we had no intention of trying to hold possession for any sustained period of time, it was up to Wales to break us down.
A further Wales change saw Sam Vokes introduced for Robson-Kanu which indicated to me that the Welsh were running out of ideas in a similar way that we had at home after Serbia went down to ten men. Vokes would increase their aerial ability but that was playing right into Duffy and Clark's hands as they kicked blocked and headed everything that came their way. I would have brought Hoolahan on to try and get us a bit more possession but that clearly wasn't the game plan. Instead, as Arter finally succumbed to cramp it was Glenn Whelan who joined the fray to help us see out the last 12 minutes.
While Wales had practically all of the possession in those last 12 minutes, their composure had deserted them at this stage and a Ramsey free fired wildly over the bar on 85 minutes was typical. Another corner a couple of minutes later was cleared by Duffy, who'd had a magnificent game and he was there again when the second ball came in. Being honest, we were using every trick in the book to waste time and Randolph was next to join Clark in the book for that offence. But the seconds were ticking down and Wales still looked no closer to scoring.
Five minutes stoppage time was broken up by a further defensive change which saw Murphy withdrawn for Kevin Long as we looked to see the game out with three centre halves and no strikers. Still Wales huffed and puffed and still Ireland held firm as the second ticked by. A Welsh free awarded on their right four minutes in caused more fingernails to be bitten to the quick and the roar that erupted from our end as Tom Lawrence promptly hoofed it straight into touch for an Ireland throw was nearly as loud as the one that had greeted the goal.
Despite putting the ball out immediately from our throw, the Welsh throw came to nothing and was again cleared up the pitch. With all the Welsh outfield players pushed forward this resulted in a foot race between Hennessey and Meyler with whoever came second certain to be booked. Unfortunately, given how well he's played the last two games and how well he's captained the side, it was Meyler who just missed out and the resultant booking rules him out of the first leg of the play offs.
The whistling from our end was incessant by now as the game moved into its 97th minute. The Wales free was launched long and wide down the right but a last cross by Gunter was blocked by Ward and the final whistle finally blew before anyone could gather the rebound. Game over for Wales as Ireland marched on to another play off!
Put your hands in the air!
The Irish end was a sea of green as the players came down to celebrate and this was one of those times where staying behind in an away ground wasn't a chore. All the songs got an airing with the "Don't Take Me Home" chant being sung back as the Wales ends emptied out being particularly sweet. A long walk back into the centre wasn't enough to dampen the atmosphere as we made our way back to the Queens Vaults to meet up with The Brummies. In fairness to the Welsh support, they were very magnanimous in defeat despite their disappointment and I had a good chat with a few both on the walk and in the pub over a pint afterwards.
Ole Ole!
The usual early closing time meant a search for a later bar and after bumping into Terry the Tash, The Quinn Towers plus the famous GerK from YBIG on the streets we eventually managed to find somewhere to finish the night and start wondering about potential play off opponents. An early 10.45 train to Birmingham for the flight home put manners on us to some degree though and after grabbing some food, we called it quits around 3 with plenty of Irish fans still wandering the streets in a happy daze.
Don't take us home!
So, we've reached the end of the group, if not the campaign, and although it's been a roller coaster with some very shaky moments, all credit has to be given to the management. To take seven points from nine on the road against our three main opponents is a phenomenal achievement and while Wales are not one of the traditional European superpowers, the fact that this was the first time we have beaten a top seeded team away is a notable feather in the cap.
The home form clearly remains a worry with a two point take from those reverse fixtures a poor return. We seem to struggle to to impose ourselves and m games where the onus is on us and we can take the initiative but, as mentioned earlier, the team seems at its best when their backs are against the wall which will hopefully serve us well in the play offs. While I try and see each game on its merits meaning that performances such as the game in Tbilisi are very disappointing, there is an argument that looking at the bigger picture is required when judging this regime. Under Martin O'Neill, we've beaten Germany, Bosnia, Italy, Austria and Wales in the last two years having struggled to beat teams ranked above us for years. The fact that the wins against Austria and Wales have come away from home also deserves respect given our last away win against a team seeded above us before then was Scotland in 1987.
The special nights have definitely outweighed the disappointing ones and let's hope that, with two legs against Italy, Croatia, Denmark or Switzerland to come, they're not over yet. As for James the Dragonslayer, maybe he should wander over to the Game of Thrones set the next time he's back home in Derry. Given what he's produced so far this campaign, who knows what magic might result!