Scripture taught us that Christians are supposed to show mercy. But there was none to be found on this damp November Tuesday. And by the time the Lord dealt the final blow, it was numbness rather than pain that we felt.
The only charity on offer came from Martin O'Neill's tactics and the Irish players. A campaign that had begun so promisingly had finally crumbled, with the win in Cardiff shown to merely have papered over the cracks.
Like the campaign, the evening itself had started positively with the atmosphere crackling as what would be a full house made their way from work to fill the lounges and bars around Lansdowne Road. Our regular haunt, the Beggars Bush, was packed to the gills with many punters taking advantage of a new initiative where you could get two pints in one plastic glass rather than having to fight through the scrum at the bar once you'd finished your first!
All our usual crew were present and correct and there were also plenty of faces who'd been regular campaigners in the days before parental responsibilities took over. The importance of this game had clearly been enough to prompt them out of retirement!
Those of us who'd made the away leg were still looking a bit shook with the quick turnaround but a couple of pints eased us back in and the positive result from Saturday had led to a sense of cautious optimism. My prediction had been a battling exit due to a score draw but as kick off approached, it was hard not to begin to believe. We'd made a habit of getting results when the chips were down in the last couple of campaign. We had Germany. We had Bosnia. We had Italy and Wales. We were only 90 minutes away from getting through to the World Cup and still all square.  Surely this squad had one more do or die result in them.
The team, when announced, wasn't overly surprising with the only change being the return from suspension of David Meyler in place of Callum O'Dowda. I had thought that Shane Long would start instead of Daryl Murphy but Martin O'Neill seemed to be setting up to keep things tight as long as possible before springing the pacey Southampton striker from the bench when the game opened up in the last half hour. The lack of Wes Hoolahan, while disappointing, was expected and most of us reckoned his introduction would come close enough to Long's in the second half.
The ground seemed to be hopping as we walked up and a rammed singing section was still bouncing when we made our almost ubiquitous strong start. We were only six minutes in when a floated Brady free wasn't dealt with by the Danish defence leaving Shane Duffy with the chance to get his head on the ball before Schmeichel could reach it. All it needed was a touch over the Danish keeper with the net unguarded and it was bedlam in the stands once Duffy got that touch and the ball dropped into the empty net!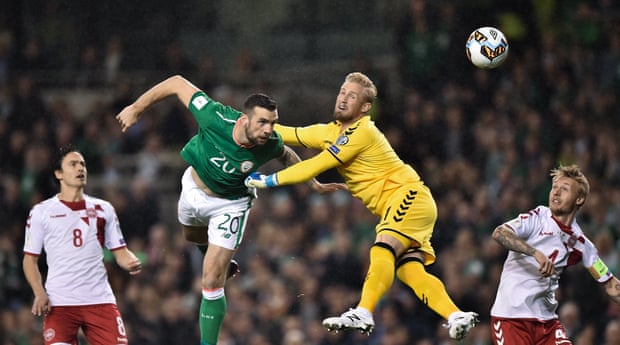 It all started so well….
(Â Photograph:Seb Daly/Sportsfile/Getty Images )
Leaving aside his decision to try and get the final touch on would have been a winner against Austria, Duffy has been one of the standout players of this campaign. The hope now would be that the pattern after his similarly early goal in Georgia where we immediately ceded the initiative wouldn't be repeated.
The hope initially seemed forlorn as we retreated back and let Denmark come at us. Two smart saves by Darren Randolph from Kvist and Sisto kept us in front and by the twenty minute mark, we seemed to have weathered the storm.
Little did we know what was coming……
Once we started pushing forward again, we started creating chances of our own, as first a Murphy flick from a Cyrus Christie cross fooled half the ground into thinking we had a two goal cushion but alas, it was the side netting only.  A minute later, James McClean got played through by Brady and was inches away from a tight angle. This was more encouraging than how we'd reacted to our early goals in Serbia and Georgia and as we approached the half hour mark, that sense of belief was still present. It wasn't for much longer.
It's pretty basic to defend a corner but we seemed asleep as Denmark won one and played it short to Sisto. Harry Arter still looked like he should be able to prevent the ball coming across but was made look a mug off as Sisto nutmegged him and forced the ball across. Christensen only got a poke to it band it squirmed back off the post. Had Christie not been trying to cover that post, Randolph could have dropped on the ball but instead, it bounced back off Christe's outstretched leg and squirmed over the line. A really avoidable away goal and one that totally changed the complexion of the tie.
Still only needing another goal to win, now was not the time to lose our composure but the heads seemed to go as we barreled forward to chase it immediately. Stephen Ward had charged forward to join the attack but was caught out badly as he attempted a one-two with Robbie Brady and as soon as Poulsen picked his pocket we were in all sorts of trouble.
One run from Poulsen and two smart passes got the ball to Eriksen in acres of space. He had all the time in the world but didn't need it as he stroked the ball first time in off the underside of the bar. From one up and creating chances to two one down and facing elimination in three minutes.
 At this stage, I just wanted to get to half time and let the management reassess where we were. With Denmark in the box seat, there wasn't much pressure from them so we were able to get forward but our play was pretty desperate for the remainder of the half. Poor deliveries from Arter and then Brady wasted good positions while McClean's tumble in the box would have been a very soft penalty had it been given. Still, with only a goal in it as the whistle blew, now was the time for O'Neill to earn his corn.
As the teams emerged fifteen minutes later. there was an audible sense of bafflement as both Hoolahan and Aiden McGeady emerged. It actually took a couple of minutes for myself and those around me to work out who had gone off as it made absolutely no sense that those players would be brought on for Meyler and Arter. Surely, it must have been Brady who went off, not both central midfielders? But no, Brady was still there and he and Jeff Hendrick seemed to be playing in the holding midfield roles?  Having started O'Dwda in Copenhagen why was McGeady now preferred? Having recently put enough trust in Meyler to make him captain why was he being hooked at half-time? What the hell was going on?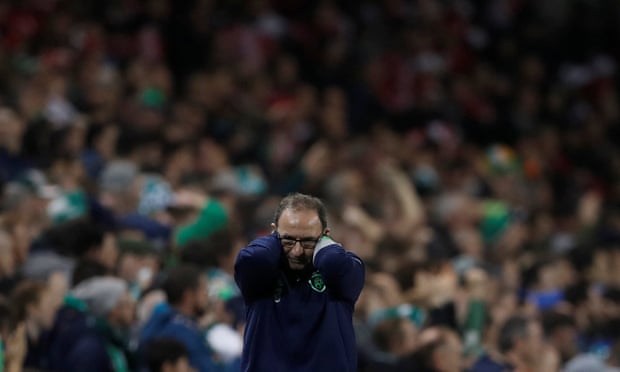 What's going on?
(Â Photograph: Lee Smith/Action Images/Reuters )
Marin O'Neill has had a very successful career. He clearly has something about him in terms of management and getting players to play for him. But no one will ever convince me of the logic of those substitutions. We effectively had to move four positions around to accommodate two subs. We were still only a goal away from drawing level. Even had we got that goal with fifteen minutes to go, we could have built some momentum and maybe made the Danes a little nervous.
One sub would surely have been enough. I had anticipated Long coming on for Murphy, who had been looking a little leggy after starting on Saturday. Patience was needed. Instead, the management seemed to press the panic button and the horror show that followed was the direct result of that. When event the Denmark boss Aage Hareide ends up thanking an opposition manager for playing into his sides hands then it's clear that the tactical errors were catastrophic.
The first quarter hour of the half whizzed by with Ireland playing with no discernable shape. McGeady got the ball in a couple of promising positions only to waste them and the team as a whole seemed utterly at sea. That said, our tempo increased somewhat and a header saved by Schmeichel from Duffy sand a surging run from Christie gave us a little hope.
However, with Eriksen the one world class player on the park, giving him all the space in the world was a recipe for disaster and it didn't long for that disaster to occur. Again, we were authors of our own misfortune as a free in a promising position was wasted as Brady booted the ball straight through to Schmeichel. Less than a minute and about twenty passes later, that man Eriksen was back on the ball to curl it past Randolph from twenty yards. Game over.
Long finally got introduced on 71 minutes, bizarrely replacing centre-half, Ciaran Clark. Even more bizarrely, this saw Ward moved over from left back to take over in a position I've never seen him play.
There was still no recognisable shape and it wasn't long before Eriksen punished us again. Ward had had a torrid time at left back and the move to the centre didn't do him any favours but it was another horrible error from him as he made a complete hames of a clearance. Having effectively laid the ball on a plate to Eriksen, the Danish playmaker hammered home the shot to claim his hat-trick. 4-1 down and thoughts immediately went back to 1985 and Eoin Hand's last game in charge when a great Danish team humiliated us by that scoreline.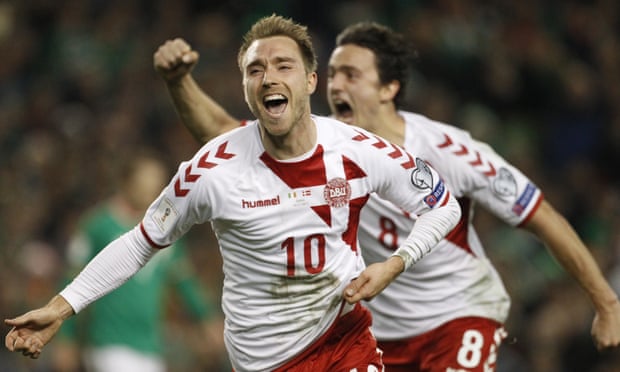 No Christian charity for Ireland
(Photograph: Peter Morrison/AP)Â 
The stadium had half emptied by now, disgracefully so in my opinion. With no chance of a comeback, the intensity of the game had dropped off completely. We were still trying to get a consolation but the only real chance we had fell to Long who showed how bereft of confidence he is in front of goal by scooping the ball over the bar when he should have buried it.
The atmosphere was flat as a pancake everywhere bar the away end and the celebrations got even louder as their cult hero Nicklas Bendtner came on with six minutes to go. I always thought his "Lord Bendtner" nickname was a mickey take but their fans genuinely love him. All I wanted was the full time whistle but all their fans wanted was a goal from him. Doesn't take much to guess who was going to get their wish.
Even though the ref had played advantage after the Lord was tripped by McClean in the last minute, once Randolph saved the resultant Sisto shot, he called the play back and gave the penalty. Up stepped Lord Nick who smashed the ball past Randolph to complete our humiliation. Once the final whistle went, I couldn't get out of the ground quick enough as the Danes celebrating wildly on the pitch.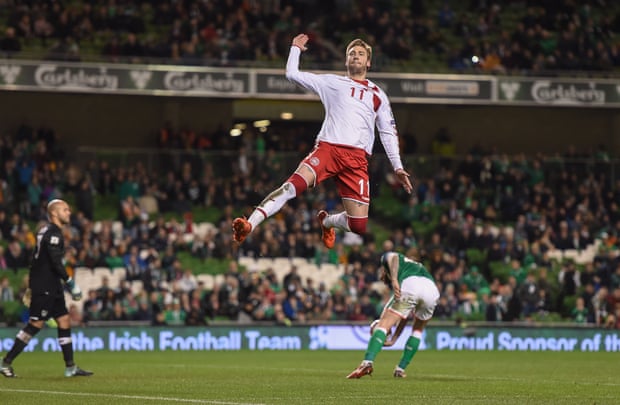 Oh, Lord…..
( Photograph: Eóin Noonan/Sportsfile/Getty Images )
 
Looking back at it 24 hours later, I'm still struggling to work out what O'Neill was playing at during half-time.  Last night was far worse than anything under Trap. Least the Spain and Germany humiliations were against world class teams that went on to win the tournaments. The home campaign as a whole was an utter embarrassment. Draws against Wales and Austria and a defeat to Serbia followed by last night's humiliation is nowhere near good enough.
I'm actually staggered by the lack of any tactical game plan or shape last night in the second half. It was as if he thought I'll give the critics what they want and bring Wes on but I'll hobble him by taking our entire centre midfield off and then bring McGeady on with him. Obviously, that wasn't his thinking that but it was utterly baffling. The lack of direction by the management team transmitted itself to the players and the lack of a coherent gameplan was as obvious as it was worrying. There was a feel of the end of the Trap era about last night's capitulation.
The arrogance shown by O'Neill is his dealings with the media and in particular, RTE's Tony O'Donoghue, is also grating at this stage. The man is paid exceptionally well and dealing with the press is one of his responsibilities. His petty sniping and the way he consistently bangs on about trophies he won in the past come across as arrogant in the extreme.
The last trophy he won was 12 years ago and he hasn't won a trophy outside of Scotland since the turn of the century.  It's no longer relevant. To walk out of an interview because a couple of difficult questions were rightly asked is disgraceful behaviour. The fact he's done it more than once reflects very badly on him.
It also indicates to me that he's not prepared to face up to his mistakes and try and rectify them. I find that deeply concerning. Yes, we don't have the best players in the world and we have no one the calibre of Christian Eriksen but watch a Premier League, or even a Championship, game and you can see our players do things they seem incapable of in an Ireland shirt. If they are not getting instructions from O'Neill to simply hoof the ball forward, then they certainly don't seem to be getting instructions not to do it. Why not? What is going on in camp? Things will have to change.
I have always said that a manager who delivers a play-off deserves another campaign and despite how bad we were, I'll stick with that. I wouldn't have offered it to him before he made the play-off but having got there he deserves another shot. I have to say that I wouldn't mind if he walked away though and if he had a chance of a Premier League job I reckon he'd take it, Whether anyone will offer him one after that inept showing is debatable.
Tony Considine